"Music Arrangements Progress Page": Slight Tables Update as of 6/28/'20
Posted by Merit Celaire [ mailto: ]
Date: Sunday, June 28, 2020 - 10:13 AM
Category: Site News/Update Entries
Snagged the chance this morning to get the aforementioned task off my "to do list" on the backend: as of the date and time of this posting, our "Music Arrangements Progress Page" has gotten a slight update to the related tables for it. Check out the image below.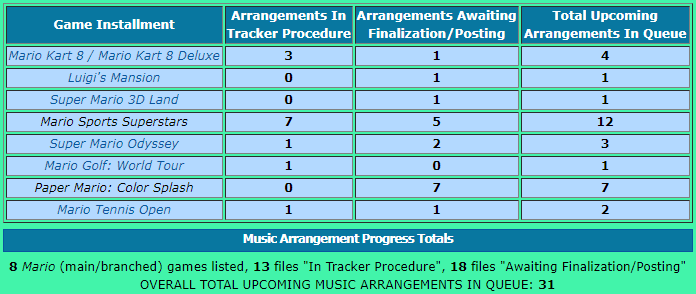 The "Music Arrangement Progress Page" statistics table as of 6/28/'20


Now there is a new column/statistic added: Total Upcoming Music Arrangements In Queue. The main table itself shows the "totals" sorted out by targeted featured game installment showing how many upcoming music arrangements that I've been working on from the aforementioned game(s). Then, of course, there's the "Overall Total Upcoming Music Arrangements In Queue", which as it already says, displays the grand total of all upcoming music arrangements being worked on, regardless of what status they are in.

As you can also tell from this same table, the number of upcoming Super Nintendo music style arrangements from yours truly still keeps growing. But that's for another post down the road in terms of sharing where my "arrangement procedures progress" stands (including which I believe you're all still asking when I'll finally be able to share new music stuff with you all again despite this coronavirus pandemic messing all of us up). Stay tuned, all.
Source URL: